Despite it being the month of June, Paris has the blues… it's pouring outside and nobody feels like going out, but even if one has to, he immediately looks for a safe place to hide from the wind and rain.
In such rainy weather, all you want to do is keep not only your nose and hands warm, but also your soul.
When I was a child I would ask the adults: « Tell me a fairy tale »! If I was told that they didn't know any (so it sometimes happened), I was almost hopeless: « Just tell me a story, at least! Any story you know! »
Unfortunately for the adults I could listen to stories for hours on end, and at the end of the story (when a naïve adult thought he had finally got rid of me) I reacted immediately: « Please, tell me another one! »
Those times are long gone (let's not say how old I am:)) but I am still a great fan of stories….(!)
I popped into the café as at that right moment it started to rain again and I realized I had forgotten my umbrella ( I usually do, I wonder why I bought it).
To warm my soul I ordered a patisserie and a cup of tea. I was the only customer and to make the most of the moment I asked the owner : « Why is this patisserie called the Paris – Brest »?
Here is the story….
In 1891 a bicycle route that went from Paris to Brest and back was created to promote an innovation of that time: a bicycle that, at that time, was only used by the elite.
The inhabitants of the city of Brest very much wanted to reward the first person who would enter the city. But they had no idea how to do it.
The answer came from a local pastry chef who created a patisserie in the shape of wheels pressed together Instead of wheels, these pastries were made of choux pastry and, instead of frames, he used praline cream.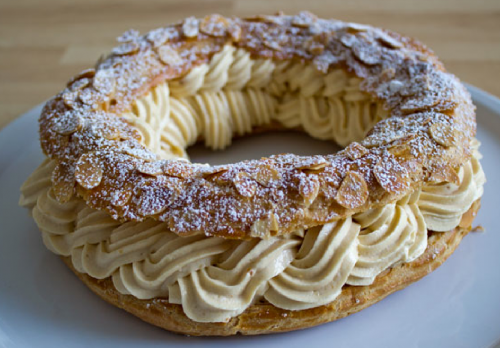 I thanked the owner for the story, the rain was beating against the windows and suddenly Jacques Prevert's poem « Barbara » came to my mind:
Remember Barbara
It rained all day on Brest that day
And you walked smiling
Flushed enraptured streaming-wet
In the rain
Remember Barbara
It rained all day on Brest that day
And I ran into you in Siam Street
You were smiling
And I smiled too
Remember Barbara
You whom I didn't know
You who didn't know me
Remember
Remember that day still
Don't forget…
The rain stopped as suddenly as it started. It's time to go!
I love listening to stories…..
#Parisbrest #patisseriefrance #patisserieparis
* the picture of Anh Bach